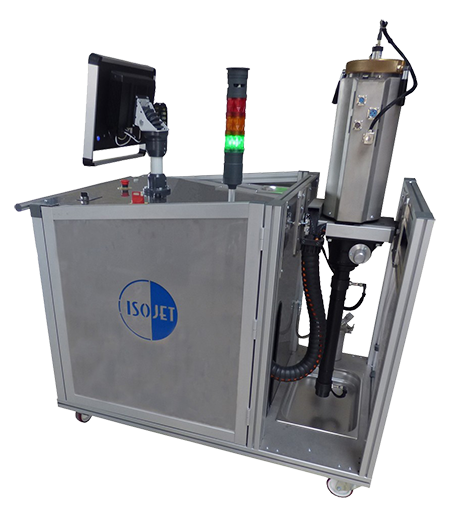 INJECTION PISTON RTM / SQRTM
Our piston is a machine allowing the injection of Resin Transfer Molding (RTM), Infusion, and SQRTM(Same-Qualified Resin Transfer Molding) of EPOXY resin under pressure in a closed mould.
Our injection piston is suitable and used especially in the aerospace industry requiring precision and reliability, it allows to work at flow of 15 to 2500 (cc/min) with an accuracy of ± 1 (cc/min) and pressures at 0 to 30 bars with an accuracy of ± 0.1 bars.
With our piston, we have experience with the following resins:
HEXCEL : HexFLow® RTM 6, HexFLow® RTM230ST, HexFLow® RTM 250ST, HexFLow® RTM 6-2, HiFLow® HF610 FS, HiFLow® 1078-1
SOLVAY CYTEC : PRISM EP 2400, PRISM EP 2410 and PR 520
WESTLAKE : EPIKOTE®
It is thanks to its qualities that it has found an important place in the applications of research and production within the predominant actors in the aerospace sector pushing ever more the limits of the possible.
You think that the inecjtion Piston could be adapted to your application?
Contact us by mail or with the form at the bottom of the page and discover the possibilities of our machines adaptable to your application!
CHARACTERISTICS
Flow (cc/min) : 15 to 2500 ± 1 (cc/min)
Pressure (bars): 0 to 30 ± 0.1 bars
Injection volume 3L to 15L
Resin processed : EPOXY
RTM/SQRTM injection compatible 
Working temperature up to 170°C
Power supply : 230V /400V
Monitoring : Schneider Citect / SQL
Mould test
Motorized piston rotation
Hourly operating lap counter
OPTIONS
Preparation tank 
Stirring / Degassing
Working temperature up to : 300°C
Cap heating 
Languages other than French and English
Unit change
Additional heating hose
Thermocouple extension
Our experts are at your disposal and will contact you as soon as possible.