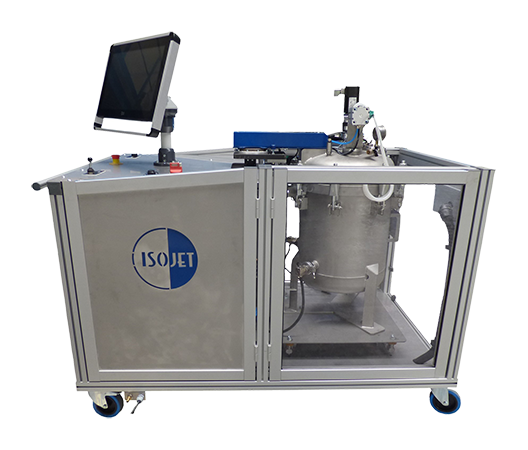 Our injection tank is a machine allowing RTM injection (Resin transfer moulding), Infusion, VARTM (Vacuum assisted resin transfer molding) and CAPRI – Controlled Atmospheric Pressure Resin Infusion of a one-component resin or a mixture in a mould.
With our tanks / batches, we have experience with the following resins:
HEXCEL : HexFLow® RTM 6, HexFLow® RTM230ST, HexFLow® RTM 250ST, HexFLow® RTM 6-2, HiFLow® HF610 FS, HiFLow® 1078-1
SOLVAY CYTEC : PRISM EP 2400, PRISM EP 2410 and PR 520
WESTLAKE : EPIKOTE®
Allowing stirring, heating and degassing of the resin prior to its implementation, it also offers a high level of control of the measured and recorded values.Moreover, if you need a large injection pressure, this injection tank can be coupled to an injector piston.
You think our injection tank could be adapted to your application?
Contact us by mail with the form at the bottom of the page and discover the possibilities of our machines adaptable to your application!
CHARACTERISTICS
Tank volume 1L to 50L
Resins processed : EPOXY / BMI
Working temperature up to 150°C
RTM / Infusion /CAPRI / VaRTM  compatible
Power supply 230V / 400V
Max injection pressure : 3 bars / 10 bars
Monitoring : Schneider Citect / SQL
Automatic up/down system for tank's lid
OPTIONS
Vacuum regulation (tank, mould ..)
Vacuum regulation tank & mould – CAPRI- Controlled Atmospheric Pressure Resin Infusion
Pressure up to : 25 bars
Working temperature up to 300°C
Use custome pail or direct loading in the tank
Possibility to manage automatically the filling
Automatic up/down system for tank's lid
Editing recipes
Change of unity
Languages other than English or French.
Additional heating hoses
Pinch valve out of mould
Extension of thermo-couples number
Second vacuum pump
Our experts are at your disposal and will contact you as soon as possible.