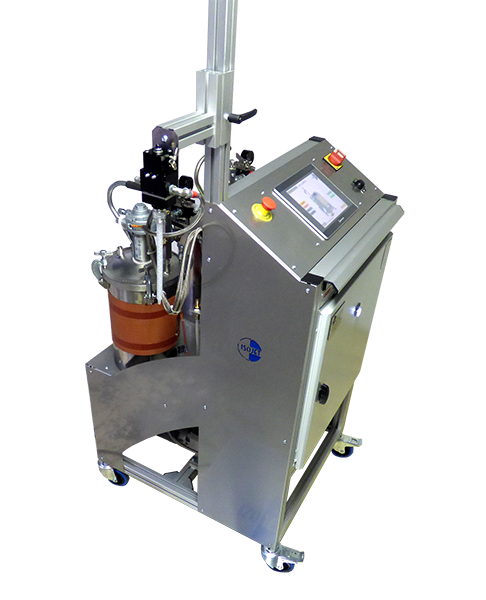 Our DPE Indus is the most suitable injection machine for sensitive applications where precision and control are essential. As with all of our dosing machines we use disposable static mixers because they have the advantage of avoiding the use of cleaning solvents and allow precise dosing to be obtained.
This machine can be modified / customized according to your needs to process dielectric resins, Polyurethane, Epoxy or Silicone and can to be present throughout the RTM injection (Resin transfer moulding), RIM injection, infusion technolgy OoA) , casting, coating, electronic encapsulation (potting) and molding.
It is the counterpart of the DPE ECO, but it allows higher production volumes thanks to the use of larger volume tanks, as well as filling using 200L drums or IBC.
Our machines use products/resins from SIKA, ELANTAS, EBALTA, HEXCEL, WESTLAKE, RESOLTECH, SICOMIN, SOLVAY, VON ROLL (Damival), WACKER Chemie, WEVO- chemie GmbH …..
You think that the DPE Indus could be adapted to your application?
Contact us by mail or with the form at the bottom of the page and discover the possibilities of our machines adaptable to your application!
CHARACTERISTICS
Flow rate (cc/min) : 50 to 3000
Mix ratio : 100/10 to 100/100
Viscosity resins (mPas) : 10 to 50 000
Pump pressure sensor
Low level sensor
Tank volume : 9L to 200L
Resins type : PU / EPOXY / SILICONE
Heating up to 120°C
Power supply : 230V / 400V
10″ Touchscreen
OPTIONS
Barrel Scan
Heating / Stirring / Vaccuum
Flowmeter
Degassing / Vacuum
Dynamic mixing head
Pressure sensor at the mixer outlet
Dryer
Fixed or mobile mixing head
Tank feeding from 200L / 1000L container
Our experts are at your disposal and will contact you as soon as possible.