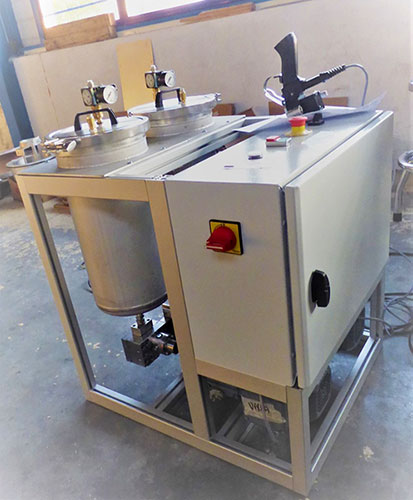 Our DPE ECO , static mixer dosing machine, is the most economical and ergonomic injection or mixing machine in the ISOJET range.
Perfectly adapted to dielectric resins, Polyurethane, Epoxy or Silicone, the DPE ECO can be present throughout RTM injection, RIM injection, infusion, casting, pottting and moulding.
This machine is the most easier and simple machine of our range ….
Our machines use products/resins from SIKA, ELANTAS, EBALTA, SICOMIN, WACKER Chemie, …..
You think that the DPE ECO could be adapted to your application?
Contact us by mail or with the form at the bottom of the page and discover the possibilities of our machines adaptable to your application!
CHARACTERISTICS
Flow rate (cc/min) : 50 to 300
Mix ratio : 100/20 to 100/100
Viscosity resins (mPas) : 10 to 10000
Useful tank capacity : 12L 
Resins type : PU / EPOXY / SILICONE
Power supply : 230V / 400V 
No control screen, no degassing, no stirring
OPTIONS
Heating belt
Fixe or gun mixing head
Silica gel filter
Our experts are at your disposal and will contact you as soon as possible.